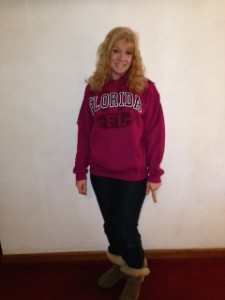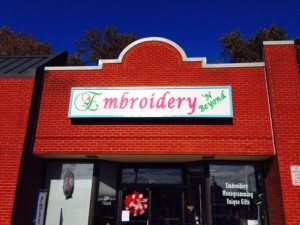 I am so happy to introduce myself. My name is Debbie Galotifiore & I am the owner of Embroidery N Beyond. I started embroidering as a hobby about 10 years ago. It's actually a kind of funny story, so here I begin.
My son at the time was in middle school & was taking the teen living class. Well, it was sewing time & he decided that he was going to use my sewing machine to sew up his jeans & create his own skateboarding "skinny" jeans….Well, unfortunately the jeans were too thick & he caused my machine to jam up & throw the timing off. I proceeded to the nearest repair shop. When I walked in the shop, I was amazed at these beautiful, expensive toys. I never realized that there was a machine that could be programmed with a design to do the stitching for you. Well, I could have taken the easy route & just had my machine fixed, but instead I found myself purchasing an embroidery/sewing machine combo type machine…..
I have been making gifts for family & friends with my machine for the past 10 years, when I realized that the 1 needle machine was very time consuming. I upgraded to a 6 needle machine which made multi colored design stitch so out much faster without constantly changing thread colors. Six threads instead of 1 was soooo much more convenient…..
I was having so much fun creating beautiful custom one of a kind embroidery items, I decided that I would like to make this my career. I purchased a 10 needle embroidery machine & in May 2013 Embroidery N Beyond was formed.
I look forward to meeting  & working with you to create special one of a kind items that you will truly love.
Debbie Galotifiore
Share and Enjoy